Would You Rather…
Give your residents award-winning super-fast internet?
Drive NOI and value for your property?
(Hint: You Don't Have To Choose)
We looked at everything people hate about the cable company and created a new, different kind of internet service.
Boingo delivers super speeds, caring customer support, and a serious supplement to your cash flow.
Cut the cable cord and Boingo-ize your bottom line.
Boingo For Your Residents
"I love my cable company!" said no one ever. Boingo delivers super-fast internet for your residents, and backs it up with 24/7/365 award-winning support.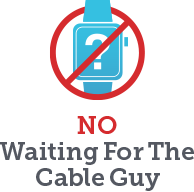 Just awesome high-speed internet that's ready to go. Instantly.
---
Boingo For Your Bottom Line
When it comes to maximizing your portfolio, don't leave money on the table with an outdated financial model.
Boingo puts the NOI in Wi-Fi.
Boingo Multifamily 101
We do it all – student housing, senior living, and conventional multifamily. Learn more about Boingo's revolutionary approach to bringing more value to your property while delivering what your residents demand.
Don't Just Take Our Word For It
Boost Your Building With Boingo
Provide a few details and we'll be in touch right away.
(Are you a Boingo customer who needs help? Let us get you to the right place. Please visit Customer Care.)